Beheer alle
risk & control taken in uw organisatie.
Werk samen. Eenvoudiger en sneller.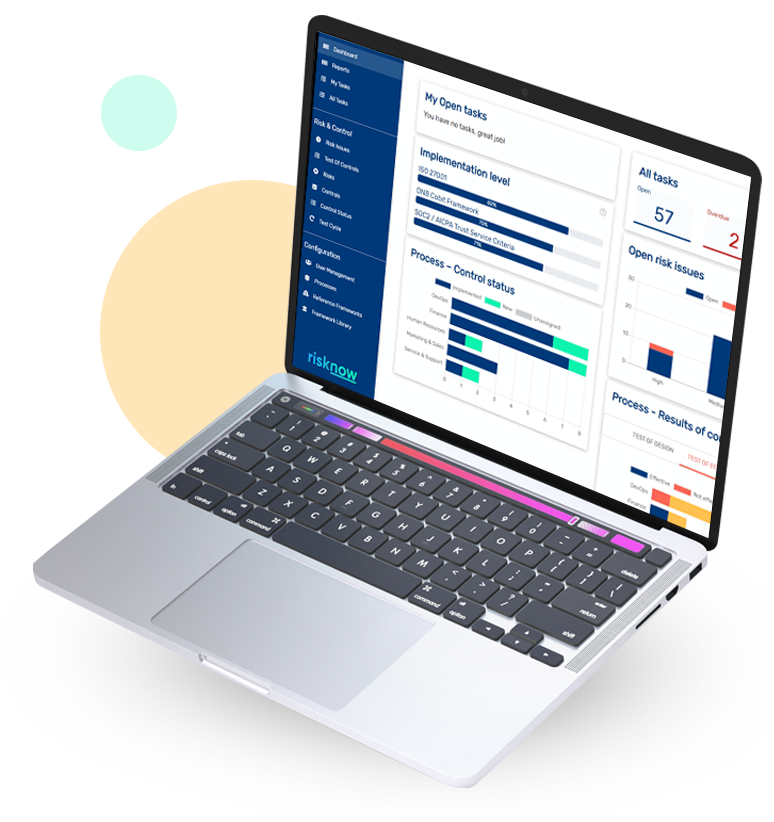 Risk & Control Management
Met het RiskNow platform weet u exact de status van alle risico's, controls en openstaande taken in de organisatie. Risk & Compliance is nog nooit zo gemakkelijk geweest.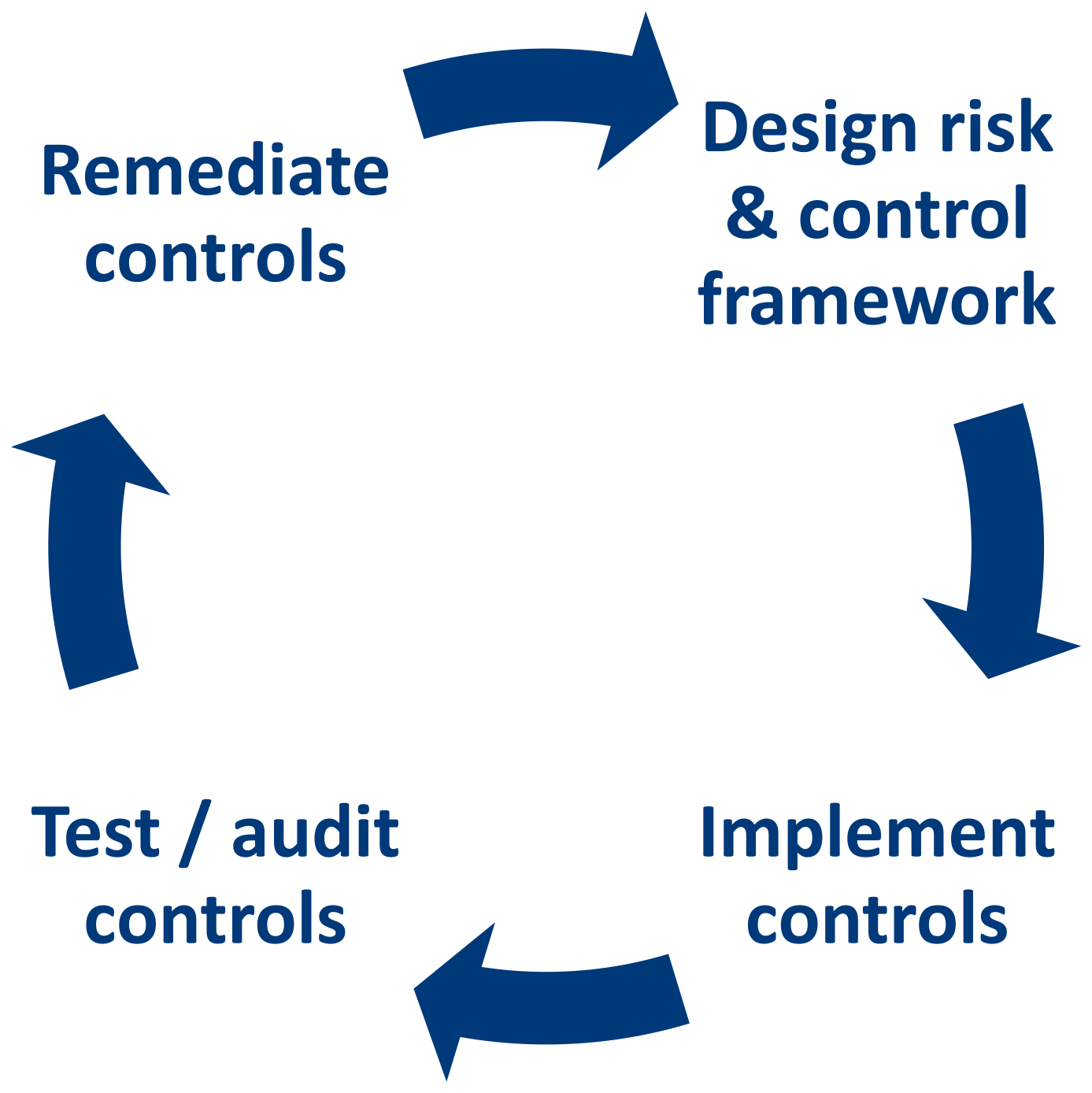 In RiskNow beheert u eenvoudig al uw risico's en controls (beheersmaatregelen) waarmee u deze risico's afdekt.
U kunt uw eigen control framework ontwikkelen door nieuwe controls te definiëren of controls te selecteren uit de bibliotheek.
RiskNow ondersteunt het risk- en controlproces volledig.

Alle bewijslijst bij het testen/auditen van controls wordt opgeslagen in RiskNow inclusief een duidelijke audittrail.


RiskNow ondersteunt reviews door middel van een eenvoudige workflow, Reviewers kunnen hun opmerkingen geven en deze worden bij de test/audit-taken opgeslagen.
In RiskNow bewaakt u eenvoudig of u voldoet aan relevante wet- en
regelgeving zoals GDPR, PCI-DSS, EBA Guidelines, ISO27001 en NEN7510 door uw controls te mappen op reference frameworks.

RiskNow Framework Library
Met het RiskNow platform kunnen organisaties eenvoudig aantoonbaar voldoen aan de AVG.
Dataverwerkingsregister


Leg al uw dataverwerkingen eenvoudig vast in een dataverwerkingsregister.

Data Protection Impact Assessments (DPIA)
Selecteer een van de templates of maak uw eigen template. Wijs deze toe aan een eigenaar en een reviewer met deadlines en uw DPIA's zijn binnen no-time afgerond.
Incidentregistratie


Registreer alle privacy, security en compliance incidenten op een centrale plaats. Leg uw melding bij de Autoriteit Persoonsgegevens (AP) eenvoudig vast.
Beheer al uw Risk Issues op een centrale plaats met een duidelijke eigenaar en deadline.
In het dashboard ziet u in één oogopslag de openstaande risk issues.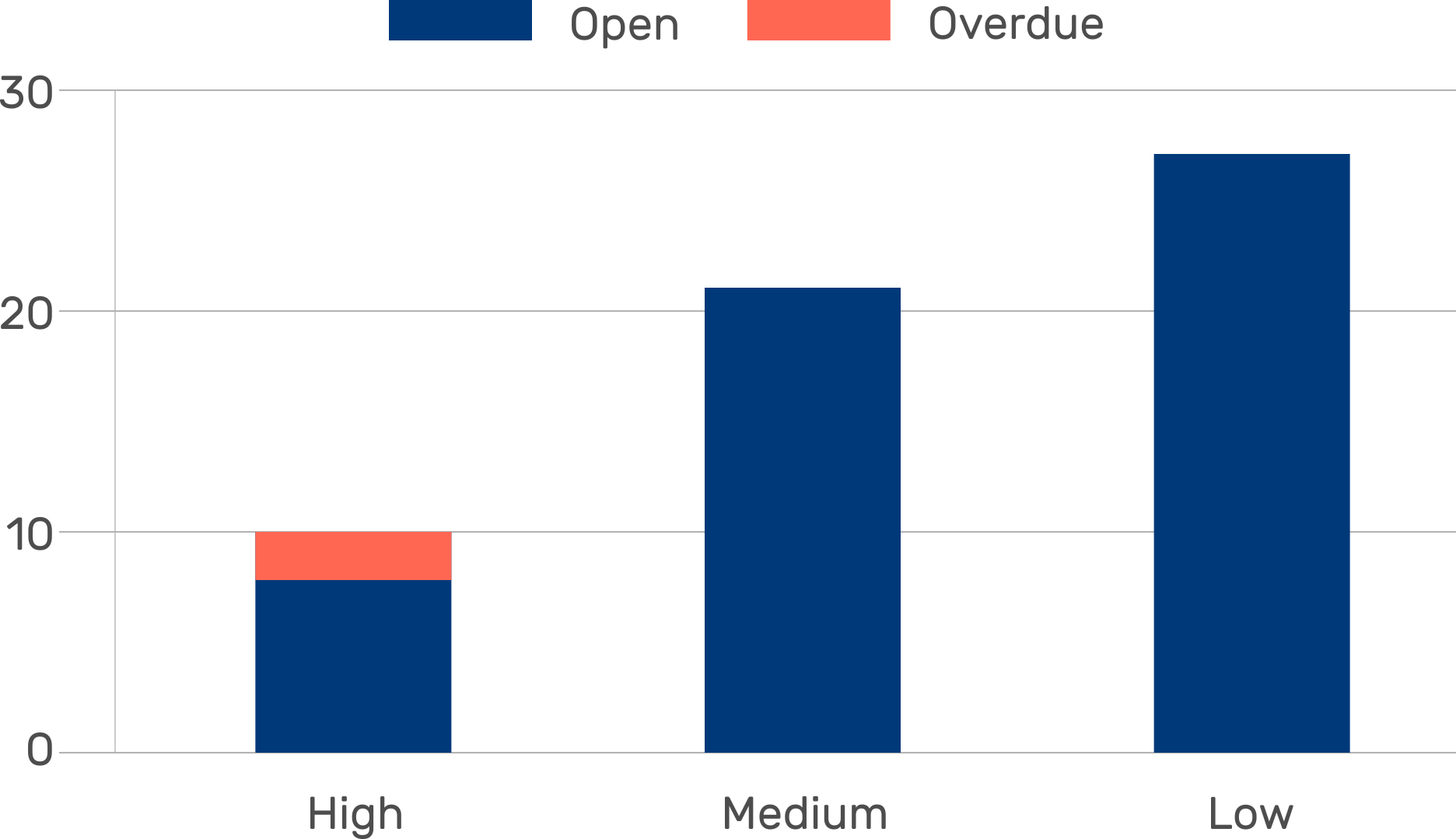 Stel voor het issue te sluiten
Eigenaren van Risk Issues kunnen updates geven op de status van Risk Issues en voorstellen doen om deze te sluiten (inclusief bewijs). Na een interne review door bijvoorbeeld de Risk Manager kan een issue worden gesloten.

Per issue kunt u de bron vastleggen waar het issue uit voortkomt (bijv. externe audit, interne audit, risk assessment, self-assessment).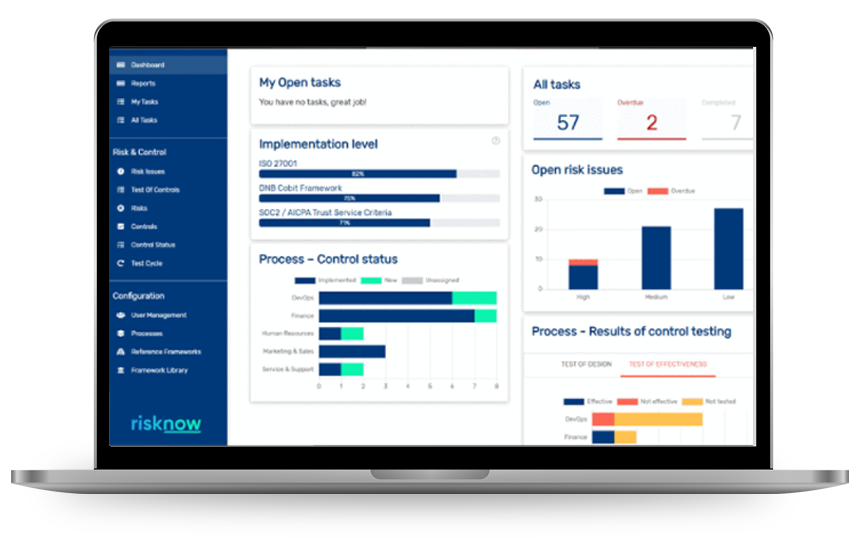 Het RiskNow dashboard geeft alle belangrijke informatie in één oogopslag weer. Voor meer informatie kunt u doorklikken om de onderliggende gegevens te zien.

Met één druk op de knop genereert u overzichtelijke en duidelijke rapportages in PDF-formaat.
Rapportages kunnen ook worden geëxporteerd naar CSV-formaat.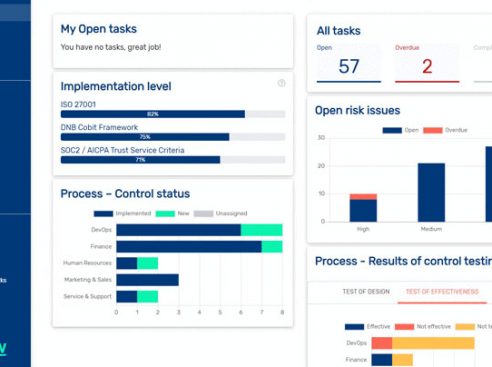 Weg met alle spreadsheets en onvoldoende versiebeheer. Met het RiskNow platform creert u één centrale waarheid voor uw organisatie welke voor iedereen toegankelijk is. Inclusief een audittrail met vastlegging wie/wat gewijzigd heeft.
Beveiligd Datacenter
Uw data is veilig opgeslagen in een Microsoft Azure-datacenter in Nederland dat voldoet aan ISO27OO1/SOC2 vereisten.

Twee Factor Authenticatie
Toegang tot het cloud platform is afgeschermd op basis van Two Factor Authenticate.

Single Sign On
Het RiskNow platform kan worden geïntegreerd met uw Identity Management- of Single Sign On-oplossing.

Audittrail
Voor wijzigingen houdt het systeem een audittrail bij zodat u exact kan zien wie, wat en wanneer gewijzigd heeft.