Overheid & Publieke Sector
Aantoonbaar "in control" en voldoen aan de Baseline Informatiebeveiliging Overheid en de AVG
Met het RiskNow SaaS-platform weet u exact de status van alle risico's, controls en openstaande taken in uw organisatie. Risk & Compliance is nog nooit zo gemakkelijk geweest.
Voldoen aan de Baseline Informatiebeveiliging Overheid (BIO)
Met RiskNow kunnen overheidsorganisaties eenvoudig voldoen aan de BIO en de AVG.
Met het RiskNow platform kunt u uw eigen risk & control framework ontwikkelen en tegelijkertijd compliance met regelgeving bewaken.
Risk & Control management conform de "Three Lines of Defense"
Steeds meer organisaties richten risk & control management vaak in volgens de Three Lines of Defense:
Het RiskNow platform ondersteunt deze aanpak volledig.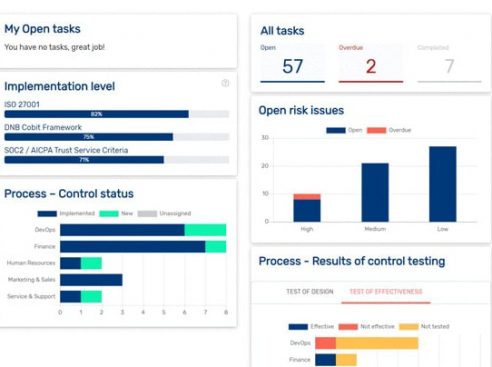 We houden bij RiskNow niet van complexiteit. Daarom hanteren we een eenvoudige licentiestructuur waarbij u voor een vast bedrag per maand een onbeperkt aantal gebruikers kan toevoegen. Zo weet u vooraf duidelijk wat de kosten zijn en staat u niet voor verrassingen.

Compliance- overzichten
Via overzichten en rapportages krijgt u eenvoudig inzicht in de mate waarin u voldoet aan wet- en regelgeving zoals de BIO en de AVG.

Eenvoudig samenwerken
Op het RiskNow platform kunnen medewerkers die betrokken zijn in het risk & control-proces eenvoudig samenwerken. Of het nu gaat om Bestuurders, Team Leiders, Security-, Risk-, of Compliance Officers of andere medewerkers, RiskNow is geschikt voor iedereen.

Actiegericht
RiskNow is actiegericht wat betekent dat het altijd duidelijk is wie, wat, wanneer moet doen.

Partner Netwerk
Ondersteuning nodig bij uw risk, compliance of security project?
RiskNow beschikt over eigen consultants en een uitgebreid netwerk van partners die u kunnen ondersteunen.