Eenvoudig beheersen van risico's gericht op uw organisatie, processen en systemen.
Belang van adequate interne controles
"Een van de redenen dat cyberaanvallen zo succesvol zijn is omdat organisaties
onvoldoende interne controles uitvoeren op cyber security processen en systemen."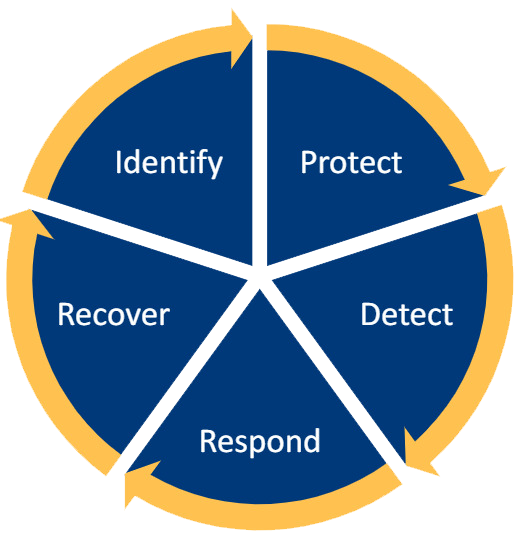 Cyber Security Control Framework
Organisaties willen hun data beveiligen. Met RiskNow bewaakt u alle risico's en beheersmaatregelen die noodzakelijk zijn voor uw cyber security strategie. U kunt uw eigen cyber security control framework ontwikkelen of gebruik maken van een best practice zoals bijvoorbeeld het NIST Cyber Security Framework.
Met ons RiskNow SaaS-platform helpen we organisaties om voor Cyber Security "in control" te zijn. Cyber security is nog nooit zo gemakkelijk geweest.
Security Officer-as-a-Service
Vaak wordt de regie voor cybersecurity bij een Security Officer belegd. Mocht u geen Security Officer in uw organisatie hebben, dan kunt u ook (tijdelijk of permanent) gebruik maken van onze Security Officer-as-a-Service dienstverlening. Hiermee haalt u kennis en capaciteit in huis zonder dat u direct een fulltime medewerker hoeft aan te stellen.

Versterk interne controles
Met RiskNow coördineert u alle belangrijke interne controles op het gebied van cyber security voor alle betrokken afdelingen en teams.

Eenvoudig in gebruik
Door de flexibele opbouw is het RiskNow platform geschikt voor zowel kleinschalige omgevingen (startups) als grote organisaties.

Geen complexe implementatie
Met RiskNow kunt u snel resultaat boeken omdat geen complex implementatieproject nodig is.

Na één onboarding-training voor uw super users, kunt u direct aan de slag.
Voldoen aan Cyber Security Standaarden
Met RiskNow kunt u eenvoudig voldoen aan Cyber Security-standaarden zoals ISO, NCSC, NIST, ENSIA en SOC2.
Klik 
hier
 voor meer informatie over ISO27001/SOC2.
Belangstelling voor de inzet van ons platform bij uw organisatie? Wilt u een vrijblijvende demo van ons product? Neem dan contact op.

Link naar platform-pagina voor meer info over features
Cyber Security "aantoonbaar in control" ?
Neem dan contact met ons op.